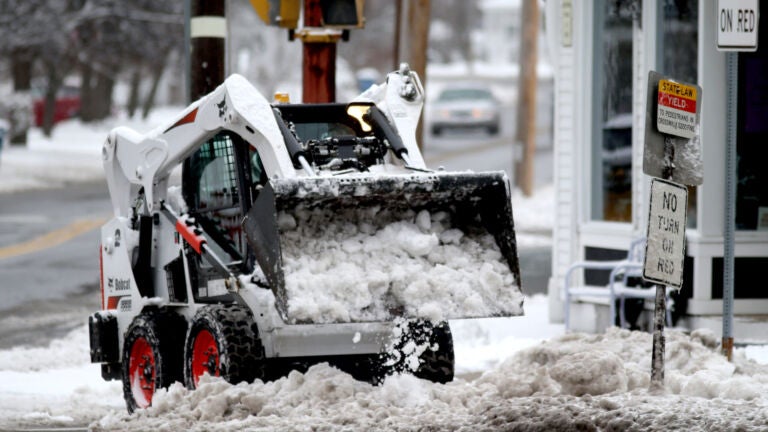 Local forecasters are warning Massachusetts residents to allow more time than normal for their commutes as the storm is expected to dump several inches of snow across the state Tuesday morning.
National Weather Service (NWS) meteorologist Bill Simpson said this could be the first "plowable" snowfall in the Greater Boston area this winter. While all parts of the state are expected to get a few inches, he said, the farther west you live, the more snow you'll see.
The NWS has issued a Winter Weather Advisory Eastern Massachusetts begins Monday at 7pm and continues until Tuesday at 7pm. Eastern Massachusetts could get 2 to 5 inches of snow and wind gusts of up to 35 mph, the weather service said.
Meanwhile, central and western Massachusetts remains under a winter storm warning from 7 p.m. Monday through 7 p.m. Tuesday. Areas under the warning are warning of heavy snowfall Monday night, but heavy snowfall is expected throughout the storm, with total accumulations expected to be between 5 and 9 inches.
The NWS predicts that snow will develop in interior Massachusetts between 7pm and 11pm on Monday, and snow will begin in the eastern part of the state between 10pm and 2am.
"Snowfall will be heaviest between 1 a.m. and 7 a.m. and travel will be difficult during this time," the service said. "Expect slow travel on the roads for the Tuesday morning commute."
Snow is expected to continue through Tuesday, but the service is predicting rain in some areas east of I-95 as temperatures rise above freezing in southern New England.
"Roads should be in excellent condition for the afternoon, Tuesday afternoon commute," the service said.
West of Worcester, the precipitation will be mostly snow all day, Simpson said. Berkshires can see 7 to 10 inches.
Below, the latest maps predicting snow totals:
Loading…